Minter
Ultra-fast and robust
cross-chain DEX
Minter is an ultra-fast and robust cross-chain DEX with in-core AMM and order book powered by its own Layer-1 Blockchain. It delivers the simplest and most effective ways to create, earn, store, and exchange cryptos in a fully decentralized way. Minter is integrated with Ethereum and BNB Smart Chain to provide cross-chain transfers and swaps. It allows to build efficient DeFi apps via a rich set of SDK and API tools.
Mainnet Launch
May 15, 2019
BIP Staking Up To
~21% APY
Earn crypto with Minter Tools
Network features
Fast transactions
5 seconds with final blocks
Low fees fixed in USD
$0.01 per transfer, $0.03 + 0.2% per swap, payable in any liquid coin or token
Fully Decentralized
Make decentralized deposits and withdrawals, easily
Limit Orders
Place limit orders powered by a unique implementation at the core level of Minter blockchain
Custom Tokens & Pools
Create your own tokens and liquidity pools in a couple of clicks
Cross-Chain Swaps
Send cross-chain transfers with swaps. For example, BUSD on BNB Smart Chain for USDC on Ethereum
Smart Contracts
Secure cross-chain smart contracts tailored to all users. Advanced mode for developers and non-dev mode for simple deployment.
Coming
NFTs
Create, sell, swap, and cross-chainNFTs with ease.
Coming
Crypto Loans
Borrowing crypto through Minter is easy! Use your crypto as collateral to get a loan without impact to your credit score.
Compare speed, fees, convenience
Compare limit orders
Wallets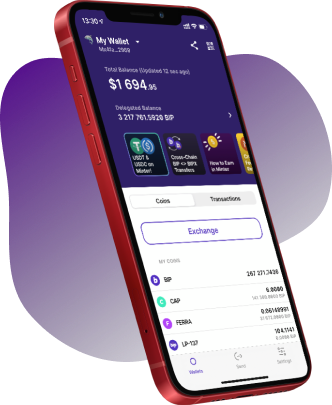 Roadmap
In light of the changes that leading blockchains have recently made in their tokenomics, Minter Team is proposing a large-scale update of the network. Its goal is to improve the economic model and implement deflationary and counter-inflationary mechanisms, stimulating the strengthening of BIP.
The Minter team has started to design mechanisms outlined below. We plan to gradually roll them out in 2023.
Read More
Coming in 2023
Smart Contracts
NFTs
Honee Crypto Wallet Release
DApp for Cross-Chain Transfers
SDK for Metaverse Items and NFTs
MultiSwap/MultiTransaction Functionality
Discover HUB Token
Current price $0.00
Start price $0.11
Max supply 1 000 000
Read More
HUB is the native token of the Minter Hub blockchain that's bridging Minter with Ethereum and BNB Smart Chain. HUB is a PoS token, so oracles receive 1% on the fees charged for cross-chain transfers. HUB also serves as reserve for DEX pools both on Minter and Ethereum/BNB Smart Chain.