Digital Assets Marketplace
Your single gateway to major digital currencies and assets: buy, sell, send, and spend BTC, ETH, BIP, USDC, gold, oil, stocks, and thousands more.
Buy BIP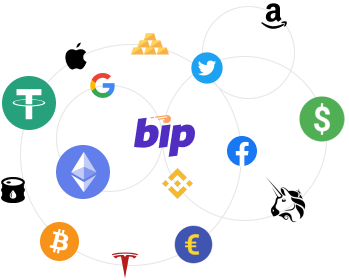 ---
What's Minter
Minter is a DPoS blockchain, meaning that all transactions are secure, anonymous, and final. Only you control your assets, and no one can restrict, block, or tamper with them.
---
The internet of money
Everything is lightning-fast and cost-efficient: a transaction takes only 5 seconds in time and $0.01 in fees. Trade of any volume costs $0.03 plus 0.2% distributed among liquidity providers.
---
Ease of use
Choose one of the three wallets to manage your assets:

Minter Wallet
You will only need an e-mail to get started

Bip Wallet
Our semi-pro solution supporting iOS, Android, and Web
Minter Console
For the most advanced users and businesses
---
There's a role for everyone
Through the lens of which role would you like to learn more about Minter?
Coiner
Create and manage your own coin or token
Validator
Support the network by providing infrastructure
Delegator
Stake assets and get rewards
Liquidity provider
Set up or join liquidity pools to earn trading fees
Developer
Integrate assets into existing projects or build new ones
Trader
Profit from trading in a fully decentralized way
---
What about HUB?
HUB is the native token of the Minter Hub blockchain that's bridging Minter with Ethereum and Binance Smart Chain. HUB is a PoS token, so oracles receive 1% on the fees charged for cross-chain transfers. HUB also serves as reserve for DEX pools both on Minter and Ethereum/Binance Smart Chain. For example, Uniswap v3 HUB-USDT, Uniswap v2 HUB-USDT, Minter BIP / HUB.
---
Facts and links
---